I love receiving photos of my pieces in their new homes. I have received quite a few pictures of recent ceramic label orders on their containers recently, so thought I would share some.
Seeing these images has actually made me want to create my own little pantry area in our kitchen. How beautiful does this selection of jars look below?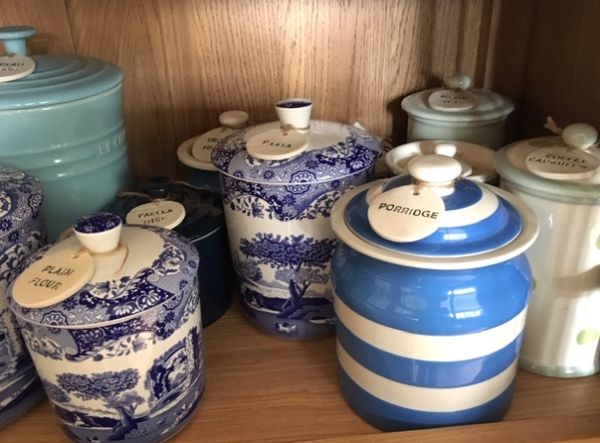 Of course, the ceramic tags are not limited for use in the kitchen. They are great for use absolutely anywhere, including the bathroom.
I have just made a selection of tags for someones fridge!
They can also be used for labeling baby baskets or containers holding nappies, bibs, books, babygrows etc – a lovely baby shower gift idea.
Some ideas and suggestions for ceramic labels are:
Self raising flour, Plain flour, Bread flour, Gluten free flour, etc.
Tea, Coffee, Sugar
Risotto, Barley, Rice, Lentils, Spaghetti, Pasta
Dried fruits, sultanas, currants, apricots, cranberries, nuts
Castar sugar, icing sugar, brown sugar, baking ingredients
Olive oil, balsamic vinegar
Cereal, porridge oats
Salt, Peppercorns
Treats, chocolate, snacks, marshmallows
Marinades, gravy, syrups
Bread, crackers
Shampoo, Conditioner, Hand wash, Hand lotion
Ceramic wedding favours are another use for these personalised tags. Each favour is individually decorated and stamped with a guests name, making them ideal for name place settings as well as a souvenir for guests to take home.
Looking for your own set of personalised ceramic tags? Please feel free to get in touch with your list of names/wording, I will be happy to make them for you.