I was recently commissioned to make a memorial heart plaque in memory of a lost loved one. Being asked to make specific pieces is my favourite thing, but I love it even more when I am asked to make such a special keepsake with a story behind it, and felt very honored to make this piece.
The customer visited my studio and brought along some flowers, fresh from her Grandad's funeral the day before. We discussed some ideas and after looking at some samples, a large heart plaque was decided on.
The nice thing about the customer being at my studio in person was that I could show her how the flowers are pressed into the soft clay, so she saw the process behind how her piece would be made.
I arranged the mixture of flowers and leaves onto a large rolled out sheet of clay, and gently rolled them into the surface using a rolling pin. The flowers do not have to be fresh to do this. I have made similar pieces using old dried out flowers that are over a year old! The flowers burn away when fired in the kiln, leaving behind the beautiful imprint, frozen in time.
Once the heart shape is cut out by hand, the piece is then left to slowly dry out until all of the moisture has disappeared. Depending on the time of the year and the weather conditions, this can take anywhere between 2-4 days.
Once fully dry, the heart is bisque-fired in a kiln up to 1000'C. It is after this that the colour can start to be applied.
I used cobalt oxide to get the prominent, vivid blue which highlights the floral textures. A lighter blue glaze is then washed over the top to give the heart a protective finish.
This particular ceramic wall hanging had a personal message and date engraved & stamped onto the back. Any wording and/or dates can also be added to the front if required.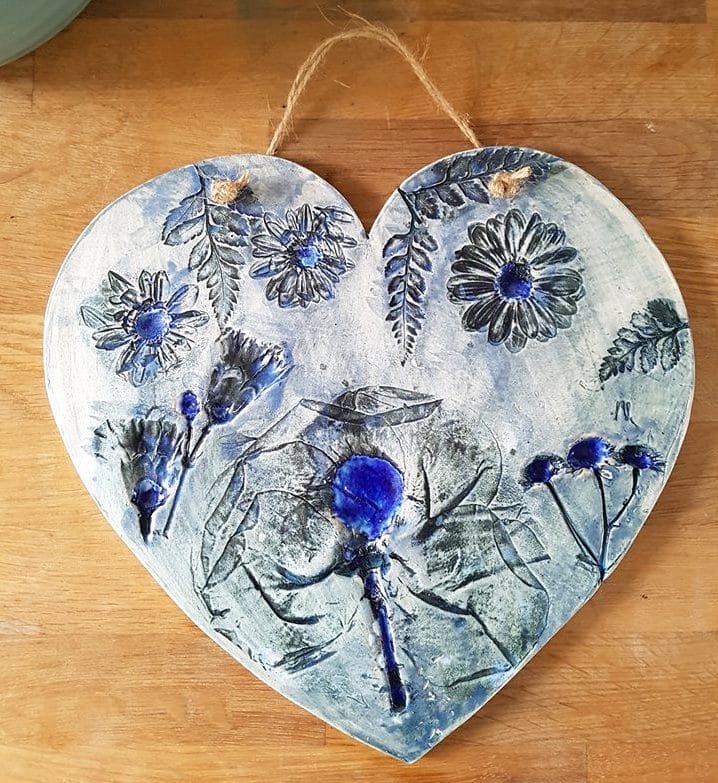 These hanging hearts make stunning gifts, especially for weddings. I have plenty of flowers to create individual bespoke designs, if you are unable to deliver your own flowers personally.
What makes a really special gift is a ceramic piece that has flowers from a wedding bouquet impressed into it. See some of my wedding flower preserves here.