New for Spring 2018
Another of my collections to be launched at BCTF in April 2018 is 'Dandelions'.
I have played around with this design in my work for some time now, and have decided to turn it into a coherent collection as I think this design works well on pieces in a group.
The fuzzy dandelion heads can vary in colour, depending on the finished look that is desired. From blues to neutrals…
Dandelion Collection Market Research
I asked a large amount of people for their thoughts on this dandelion design; the most common response being simple. Some of the other comments were:
Pretty
Neutral
Would fit into any colour scheme
Simplicity of stalks and heads
Effective
Dandelion Product Range
Pieces from my range featuring the Dandelion design include three different sized white slip cast vases, small hand built bud vases, extra large slab built vessels, hanging decorations, tea light houses in three sizes, freestanding curves and a variety of bowl forms.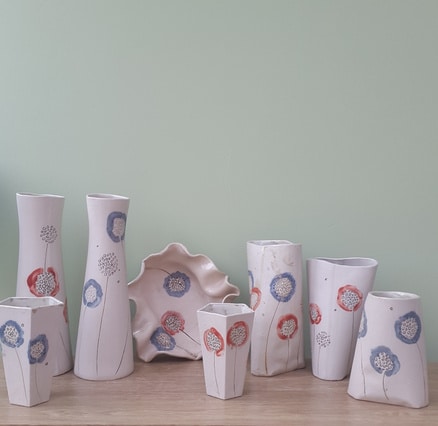 See the 'Dandelion' collection to view individual pieces online.