Every ceramic artist has their own creative journey, different reasons for where their interest in ceramics came from, and how they have developed a hobby or career as a ceramicist.
I thought it would be interesting to put together a selection of some of ceramicists whose work I love, and delve deeper into finding out some of the above by asking them some questions, and comparing them to my own experiences.
Where does our interest in ceramics come from?
It was during a 3D project during my A Levels at college that I visited the internationally famous Kate Malone at her Islington studio, which made me think "I want to be like her". She was my 'clay hero' and I'll never forget the few email conversations we had back and fourth when I was asking for advice for my project, when she invited me to help out in her studio. And the rest is history!
Virginia Dowe-Edwards makes ceramic dogs – If you've not seen her work, you must! Each dog has a different facial expression and individual characteristics. Virginia has always loved art, and was never happier as a child than when she was drawing, painting or modelling creatures from a big tub of Plasticine. It was when she visited Wolverhampton university to look at a degree course, that she stepped out of the lift onto the ceramics floor and instantly knew that was where she wanted to be.
The elegantly hand decorated & functional ceramics of Lisa W B Walker are all made from her potters wheel. She became interested in ceramics when she enrolled in a clay class at high school.
The work of Mollie Brotherton from Terrain Vallonne Ceramics is one of my absolute favourites. (She uses dandelions in her designs – so why wouldn't it be?!)
Mollie lives in the south-west of France which is characterised by rolling hills of agricultural and pasture land. Her mum is a potter so she thinks her interest in ceramics is in her blood. However, she wasn't serious about ceramics until she studied it at Canterbury Christ Church University under the inspirational Maggie Williams.
The delicate work of Karen Turner from Hodge Podge Arts is extremely beautiful and tactile. Each one of a kind piece is individually handmade with love.
Karen didn't actually develop an interest in ceramics until she started doing a Design Crafts Degree in 2004, and in fact it was the last thing she ever saw herself doing! She explains; "I had always envisaged myself being a painter but after completing an art foundation course rather than doing a fine art degree I decided I wanted to learn skills that I could use in all different ways which is why I chose Design Crafts instead."
The course taught Karen basic skills in textiles, ceramics and metals but she always seemed to be drawn to using clay to express what she wanted to convey for each brief given during the course.
Hand modeled and hand painted using her own sumptuous blended glazes, Renee Kilburn's work is so eye poppingly gorgeous. (Yes, I think I just made up the word eye poppingly!) Renee started as a painter but was never happy with the finish or surface. She explains; "My paintings were lacking in something and I did not know what. Until I took a course a friend held. I drew some oxide on a glaze and when I saw it after firing I was hooked!"
What appealed us to work with clay as opposed to other forms of art?
For me, I was drawn between textiles and ceramics while exploring both media at university, but it was the real hands-on approach with clay that really enables you to engage with the piece you are making that did it for me.
I'm instantly drawn to the colourful work of Sarah Duke from Dottery Pottery. She loves being able to manipulate the clay into forms that she imagines in her mind. "It's so immediate and almost primitive, working the earth with your fingers. I appreciate the fact that after firing, the work becomes permanent, you can't just screw it up and start again. You have to accept the piece you made, accept it for all it's imperfections and learn from it."
Mollie Brotherton enjoys the challenge of transforming 2D into 3D and the marriage of surface to form.
Virginia Dowe-Edwards says: "I think my childhood spent with a tub of plasticine gave me a great start in modelling, and I think the move to clay was the next logical step. I really enjoy how responsive clay is to my touch. Clay is an amazing art form. Being able to take mud out of the ground and turn it into a vessel, an animal or sculpture is pretty fantastic."
Karen Turner explains: "I could say lots of things about how versatile the medium is and how you can use it as a canvas as well as to create functional objects, but at the end of the day it was just a feeling, an instinct to want to use rather than a long thought process."
Renee Kilburn was appealed to the firing process. She loves the changes and how it gives an extra dimension to the surface and colour.
What is our very first step into making a ceramic piece?
Virginia Dowe-Edwards starts by extruding her clay into tubes, first making the dogs bodies and leaving them until they are dry and strong enough to support the rest of the dogs limbs.
Mollie Brotherton takes early morning walks and finds inspiration in the lanes and hedgerows.
Her hand-decorated quirky forms are initially rolled out as slabs of clay which are then pieced together into a pot, bowl or other type of vessel.
For Karen Turner, it depends on what she is making. She used to do lots of sketching and ideas would come from that but now she just uses the making process to develop ideas and also learn from her mistakes when experimenting with ideas.
The design process is the first step for Sarah Duke. Quite often, she will produce a piece based solely on a drawing she has jotted down in a sketchbook, then other pieces will naturally evolve and grow into a series of work.
For Renee Kilburn, the first step all depends on what she is planning to make, as each of her pieces are either slab built, coiled or hand modeled. Renee has also recently started using sprig moulds in her work.
Where does our inspiration come from?
Life experiences are the main source of inspiration for ceramic artist Lisa W B Walker.
Renee Kilburn solely uses nature as the inspiration for her work.
"I love anything vintage, shabby chic and nostalgic so most of my inspiration comes from that really. I am a romantic and that is also incorporated into the things I create. I love making work that brings back a special memory for someone and enjoy making custom pieces that incorporate photographs or text that have meaning." – Karen Turner.
Most of Sarah Duke's ideas pop into her mind or continue on from ideas that she has worked on for years. "I always seem to return to the themes of nature and love. Flowers, hearts and woodland creatures all feature quite heavily in my work."
How do we record our ideas?
Sketchbooks seem to be the most common way to keep note of our ideas. I have piles of sketchbooks stacked up full of different drawings, as well as single pieces of paper. Whereas Lisa W B Walker uses a different sketchbook for each year.
Virginia Dowe-Edwards keeps sketchbooks, but she really enjoys working from life.
Mollie Brotherton is a hoarder of images, both the work of others, photos, magazine cuttings, wrapping paper, and she also sketches ideas in sketchbooks.
"I often work ideas into mixed media pieces using collage and lino prints to help work through my surfaces."
On the other hand, Karen Turner doesn't find the time to do much sketching now. She photographs all the work she creates and often looks back through them to see if there are any ideas she would like to revisit.
The wall in front of Sarah Duke's main workspace is full of her notes and sketches that she constantly refers back to.
Renee Kilburn rarely sketches on paper first, but sometimes plans a few ideas with a cuppa. The clay is her sketching medium, and she also takes a lot of photographs.
Do we ever get the equivalent of 'writers block'?
This has happened to me on numerous occasions where I have felt like giving up if something goes wrong. Although I have now come to realise that mistakes are there to be learnt from, and that ceramics is my passion so I try to remember my big dreams! Similar to Karen Turner, who suggests that the hardest part of the creative process is actually thinking of the ideas in the first place:
"My head is full of things I would love to create but sometimes it is difficult to make the firststep in trying to create them into reality. When I get my clay out it is sometimes the same feeling as looking at a blank canvas and not being able to make the first mark onto it."
Similar to another one of us who experiences a numb mind every now and again! "Absolutely, and when I do, I just have to start working and eventually it becomes clear what I need to make." – Lisa W B Walker.
Sarah Duke can sometimes go weeks at a time without a new idea. She spends this time making her more popular, tried and tested items and tries not to stress about it. "I know that the ideas will come again, usually when I am least expecting it like when I'm having a bit of a daydream looking out of the window at the squirrels."
On the other hand, Mollie Brotherton hasn't experienced writers block, but she does have a large collection of 'disappointment' pieces and trials that regularly get culled into the skip.
Renee Kilburn is one of the lucky ones among us who feels very lucky that she doesn't ever feel stuck in a rut. Although, sometimes she does feel like she could do with a break.
What do we value most – the process of creating a piece or the achievement of having made it?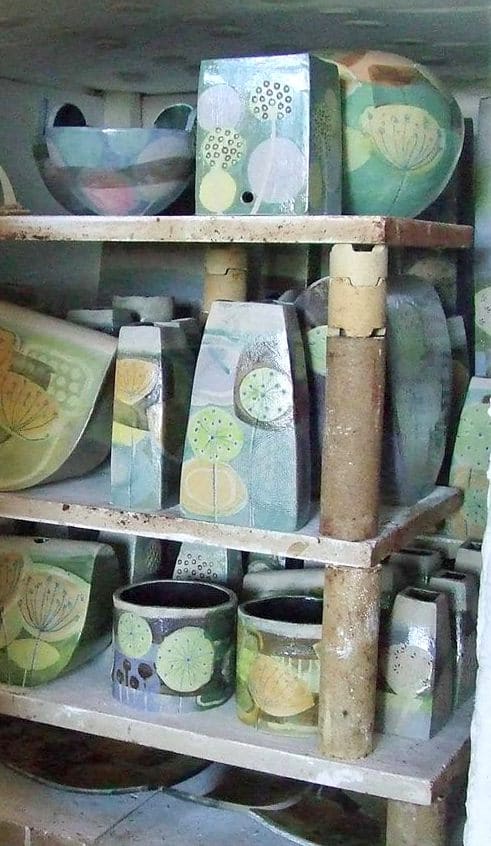 "I love the making process, especially glazing, definitely not rolling out slabs), but there is nothing more rewarding than opening a glaze firing and seeing something special." – Mollie Brotherton.
"I feel honoured that people like my style enough to want their pet immortalised by me." says Virginia Dowe-Edwards.
"Without a doubt, it is the process that appeals to me more." – Lisa W B Walker.
"Both – I love 'playing' with clay and experimenting with new ideas or ways of making but I also love opening my kiln and seeing how things have turned out… that part is still exciting even after doing it for years." – Karen Turner.
"I value both equally but I must admit that the most enjoyable part of my job is the making process. It's the most fun part for me and a time when I put my personality into the piece. It's also the part of the process that I feel most in control of." – Sarah Duke.
"It has to be the process. Once finished, I move on." – Renee Kilburn.
What do we least enjoy about ceramics?
You could say ceramic pottery is quite a seasonal hobby or occupation, and I would definitely say I am a fair weather worker! Many of my most enjoyable working moments are having the studio door wide open with the sunlight beaming in, or even moving my glazing table outside to work in the sunshine. The worst part for me is the very cold weather (a bit like now!), as it interferes with drying times of my clay, not to mention having to wrap up in five layers of clothing. The clay is also freezing cold to touch during winter, it's a shame we can't wear woolly gloves!
Clay can be our worst nightmare when at it's most brittle stage. Like Virginia Dowe-Edwards explains; "It's fragility in it's unfired state can be heartbreaking."
Karen Turner similarly explains; "When you have made a beautiful piece only then to discover a hairline crack as you get it out of the kiln after its fiting – very frustrating!"
The least enjoyable aspect of being a ceramic artist to Lisa W B Walker is putting a price to her work, which I can also completely relate to!
For Mollie Brotherton, it's opening the kiln and finding lots of disappointments.
Renee Kilburn least dislikes mixing glazes and reconstitute clay.
Sarah Duke explains that it's the uncertainty of the drying and firing processes that she least enjoys; "So many things can go wrong once you've actually finished making the piece. I also find it a little bit frustrating having to wait for a piece to be thoroughly dried out before firing it… sometimes you just want to get on with it and see the finished product."
What goes through our minds when we're working on a piece? 
 "I go into a little world of my own. Most of my thinking about my creations tends to be done when I am not actually making anything." – Karen Turner.
Virginia Dowe-Edwards likes to play with the positioning of the ears and eyebrows of the dogs she creates, as changing these can alter the look of the dog greatly. She says: "I think they sometimes reflect my mood. I'm probably pulling all kinds of faces when I sculpt theirs. Luckily I work alone." 
 When throwing and decorating her work, Lisa W B Walker likes to relive the experience that inspired her to make the piece or collection. I think this adds a huge element of personality to her work.
"I'm always worrying about the process – Will it warp? Will it crack when it dries out? Will it stand up?" – Sarah Duke.
"I find work quite meditative. There are lots of stages – from the back breaking grind of the slab roller to the careful multiple layers of stain, throughout I find myself absorbed in the process… Until 4′o clock when it's time for the kids to come home." – Mollie Brotherton.
"For me it is a very meditative process. I think of the work. How I can improve it." – Renee Kilburn.

If we weren't working in ceramics what other field would we work in?
Rooting from my strong love of animals, I always used to think I would be a vet when I was younger. Similarly to Virginia Dowe-Edwards, whose childhood ambition was to be a zoo keeper.
Mollie Brotherton loves teaching; "but it would have to be in the arts."
Karen Turner would like to be a fine artist as she doesn't get much time to paint and draw now.
Sarah Duke would still work in the creative arts in some shape or form.
Renee Kilburn would paint. She says that if she was at all academic, she thinks she would have loved to be a psychologist or a midwife.
Lisa W B Walker can't imagine not working with clay.
What effect do we want our work to have on people?
Virginia Dowe-Edwards: "I'd like it to make people smile." (Her work sure does that for me!)
Lisa W B Walker: "I want people to enjoy my work, use it in their homes, make it become a part of their life."
Renee Kilburn: "I love when people smile while looking or interacting with my work."
Mollie Brotherton: "I would like people to see my work and be inspired to explore their rural surroundings. To take an interest in what's outside, get muddy, climb a grassy bank and poke around in a hedgerow. Ultimately come home with a tangled bunch of wild flowers, pockets full of acorns and lungs full of fresh air." - I'm feeling inspired to go out and do just this now!
Karen Turner: "I want to be able to create beautiful pieces that evoke a happy memory and have a meaning for the individual."
Sarah Duke: "I just want it to make people smile."
Do we have any advice for others wanting to start a career in ceramics?
Obtaining a teaching degree is at the top of Lisa W B Walker's advice. She says; "That way you will have more opportunities to earn money and it is important to earn money from your work whether it is teaching ceramics, making ceramics, or a bit of both."
Mollie Brotherton advises to be prepared to spend more hours promoting and marketing your work than making. She also advises to set your goals high.
Virginia Dowe-Edwards would recommend getting more business advice – "I've learnt a lot of things the hard way and am still learning now. I would also encourage others to make what they love, because if you can make a living from it, you will end up with a job you love too."
Going right back to the beginning, Karen Turner advises to go to lots of different shows that specialise in ceramics so that you can see what you are drawn to, or what excites you. She says, "Once you have established that you can then go and find the right sort of course that takes that into account."
Possibly my favourite comment by Sarah Duke: "For anyone wanting to start a career in art of any kind… Have faith in yourself and just go for it."
Renee Kilburn advises not to under price your work. She encourages others to visit galleries before offering them work, and to find galleries that are willing to buy the work instead of a sale or return agreement.
A huge thank you goes to the amazing six ceramic artists who have taken part in this post, I have really enjoyed getting to know them more, delving deeper into their work and finding out what makes their work individual. I hope you have too!
If you are interested in finding out more, or if you particularly like any of the mentioned ceramicists work please visit their websites which can be found near to the top of this post.